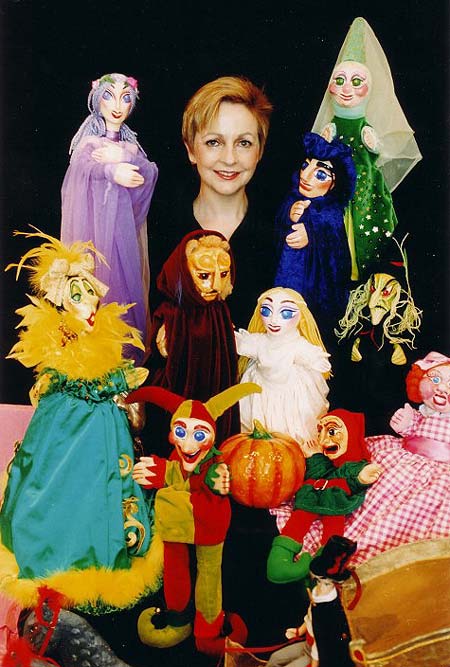 Claire Everton and the "cast" of Cinderella
Puppet Fairy Tales
In the unique one woman shows "Beauty and the Beast", "Snow White and the Seven Dwarfs" and "Cinderella", Claire combines her acting and vocal skills to bring to life European paper-mache hand puppets.
At approximately 50 minutes each, the performances centre on the traditional values of true love and honesty with good overcoming evil. Original music compliments the story telling productions which have all the pathos and joy expected of good theatre.
Claire studied Children's Literature and Drama at Adelaide's Flinders University, including Drama in Education. Trained in voice production and an Estill Certified Master Teacher (EVTS), Claire is presently working as a vocal coach and singing teacher.
"Beauty and the Beast", "Snow White and the Seven Dwarfs" and "Cinderella" ... a delight to both kindergarden and primary school age children. Musical puppet story telling not to be missed!
Read the testimonials of Claire's performances.
Contact Claire for more information or book a puppet performance. Suitable for birthdays, school holiday programmes, libraries and shopping centres.
Exciting news!
Claire has just released an entertaining and educational voice book for Primary school aged children:
Whisper Boy. The Boy who lost and found his Voice.
Read more about it here, contact Jo Jo Publishing at jo-media@bigpond.net.au or call 03 9681 7275 to preorder Whisper Boy!